English at School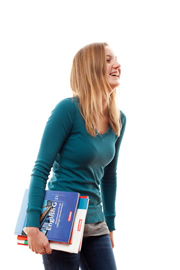 The sooner one learns a given language, the easier it is to master the grammar and sounds of that language. English is no exception, and the ideal pedagogical situation involves taking classes at the earliest possible age and with a native speaker. To that end, our team at the Professional English branch of INSTITUT BILDUNG plus offers services that reinforce and further the English skills children learn at school.
Private Tutoring
Many students struggle with English at school. The limited time available each week and the difficulties of mastering a foreign language can easily lead to inadequate skills and ultimately to feelings of defeat. However, that doesn't have to be the case. Having a native English speaker with multifaceted pedagogical skills as your private tutor can bring you up to speed with your peers. Your tutor can open your eyes to the joys of English on an individual basis better than a classroom teacher whose attention is divided amongst many pupils. Our experience with students of all backgrounds and ability levels provides us with the necessary know-how to improve both your success at school and your knowledge, understanding, and enjoyment of the English language.
Courses
In addition to Private Tutoring, the Professional English branch of INSTITUT BILDUNG plus offers courses for students of all ages and abilities. Our courses are designed to both reinforce the "basics" taught at school and to go beyond these fundamentals by providing more advanced instruction by native speakers. Our courses serve to improve the four cornerstone proficiencies of foreign-language learning (reading, writing, listening, and speaking) through expert instruction in small groups. Through these classes, our students not only reap the benefits of better marks in school but also gain an appreciation for the joys of the English language.